Yuri's Info
---
Personal Info:
Name: Tanima Yuri
Birthday: July 7th, 1982
Height: 162 cm
Weight: 45 kg
Fav Subject: English
Least Fav Subject: Biology
Fav Color: Aquamarine
Fav Food: Pudding
Yuri is very elegant and lady-like. Her family life is pretty normal. She has both her parents around and she lives in a very nice apartment building. Her mother makes wedding dresses for a living. Quiet Yuri is found out to be the fighter Angel Lily.
Attacks and Henshins:
To change into Angel Lily Yuri says: Wedding Graceful Flower!
To change into Fighter Angel Lily Yuri says: Wedding Change! Oironaoshi! Angel Precious Lily!
Fighter Angel Lily's attacks are: Saint Lipliner Lily Rainbow!
Otome no Bridal! Veil........Saint Straw Stardust!
Seiyuu Info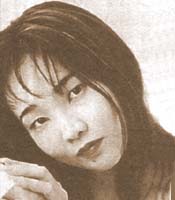 WAAHHH!!!!!! This is Yuri's voice actress!! Yukana Nogami!!! Here's some info on her!!!
Name: Nogami, Yukana
Born: 01-06-1975
Birthplace: Chiba
Blood Type: O


List of appearance :
Azuki-chan as Azuki
Card Captor Sakura as Meirin
Vampire Hunter : The Animated Series as Felicia
Wedding Peach as Yuri(Lily)
---